Practice day 1
- 11 Dec, Darangshi oreum, 260m , north west wind
After a week of snow storm, it's forcast to have zero or no wind at Daegu, last minute decision was made to change venue to Jeju, island south of the mainland.
Some practice today at Darangshi oreum, one of the 368 craters in jeju. Took 30mins to climb up 260ms.
Before climb up the mountain.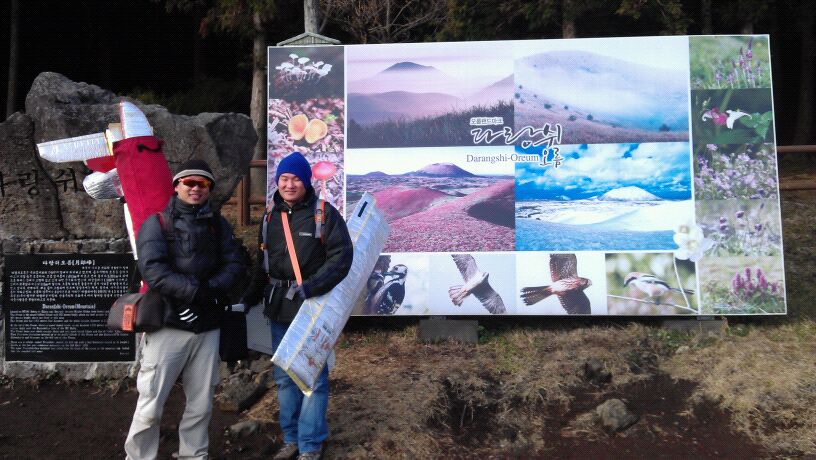 Reach crater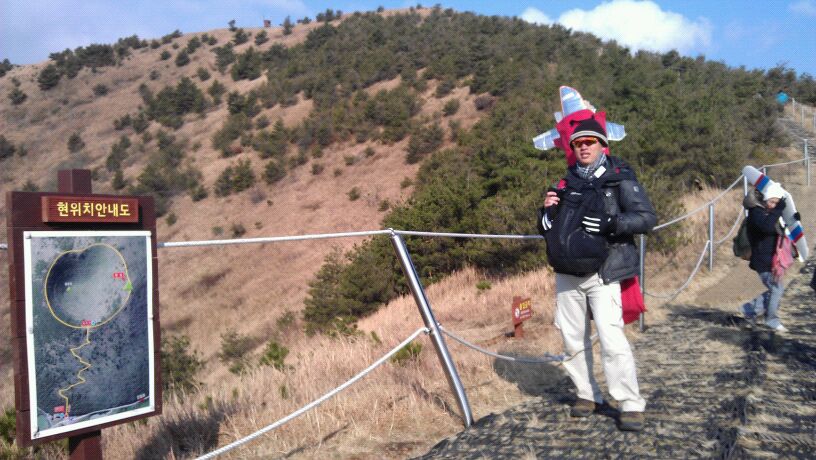 Tried DSing.for the first time.
http://www.youtube.com/watch?v=LGeEe...p7jrPg&index=1
Temperature was about 5degrees, snowed for awhile at the top. Fingers was numbed after about 20mins n had to land.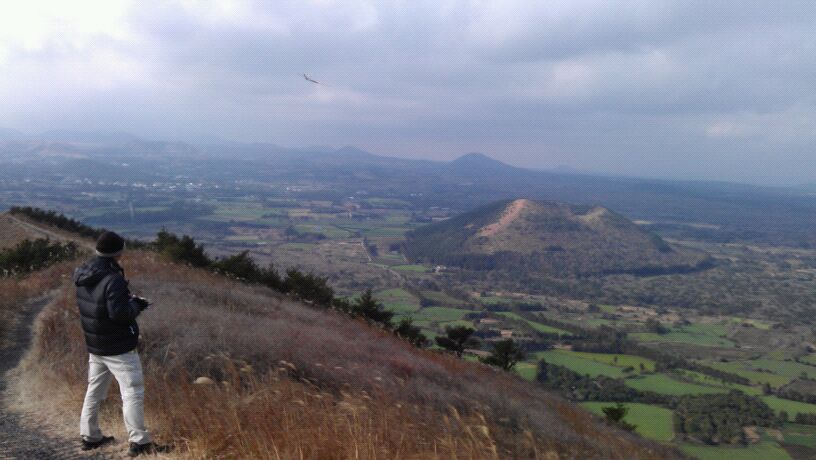 Hot soup for cold weather was comforting.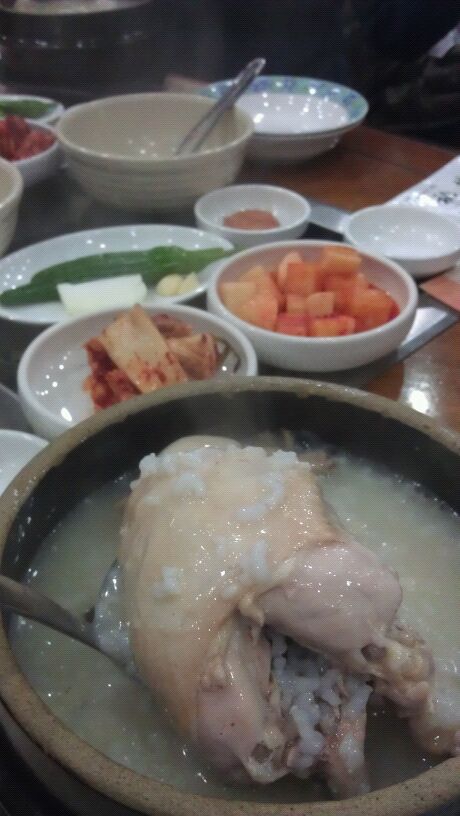 Practice day 2
-
Saebyeol oreum, 120m , south wind.
Little or no wind in the morning, and wind picked up around noon. Met with pilots from other countries for practice at
Saebyeol oreum.
Competition Day 1 - 14 Dec
Weather forecast was south southwest wind but rainy. Left the hotel at 8:45am and drove 50 minutes to the flying site which is a coastal site on the west corner of the island. We waited there for an hour or so wishing that the rain will stop, but it didn't, we went sightseeing in the nearby Hallim Park. There is a cave worth seeing in the park. We then had lunch and went back to the flying site again because weather forecast said that the rain will stop at about 2pm. Yes, it did stop but only for an hour when we checked on the slope and prepared to setup the course. Unfortunately, it rained again and was quite heavy, so the organizer had no choice but to cancel today race. We headed back to hotel at 3pm.
Competition Day 2 - 15 Dec
For the second day competition, it was raining in the morning. We left for darangshi as forecast was north west wind. we waited at bottom until the rain stop at 11:45am, then we took the 40 minute hike up. at the top it was covered with dense fog, so another wait till 2:30pm the fog started to clear up. Then after problematic setup with some equipment malfunctions, we finally kicked start at 3:15pm. The first lucky pilot to fly is Allan Yeung from hk. Well, he made it without problem although the slope had some cross wind and turbulence. We finally managed to complete two rounds at 5:30pm just before sunset. We were all happy and didn?t mind to walk down in darkness, ha ha that?s the crazy pilots we are.
Current top 5 ranking is
1 st : Stanley Chan, Hong Kong
2 nd: Haeryoung Hwang, Korea
3 th: Joe Sung, Taiwan
4 th: Son Kwonsam, Korea
5 th: Pang ,Singapore
Fastest speed is 42:xx by Korean pilot
We expected to have lighter wind tomorrow so the best speed will most likely be kept by the Korea pilot. In order to gain the lost time, we will get up early tomorrow morning and leave the hotel at 6:00am.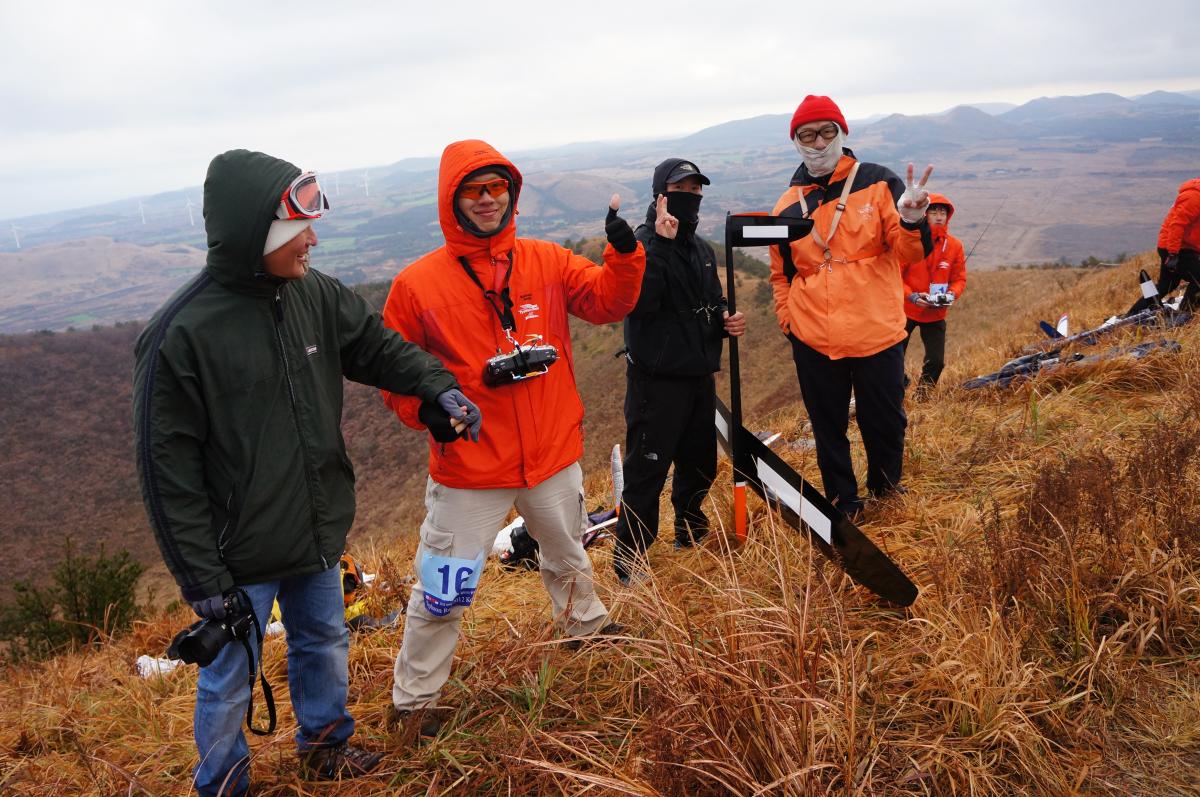 Compeition Day 3
Thank you all for your support. the Korean organizer, despite of the poor weather, they have done a wonderful job to make this competition a success.
The third day contest.
We left hotel very early in the morning and arrived at the flying site just before 7am. The wind was 4 to 6 m/s initially and gradually dropped to zero after only 5 pilots have flown in the first round of the day. So we had to wait. Fortunately, the wind did come back at around 11:30am and we quickly restarted the game. Wind speed was marginally at 3m/s and graduately went up to 6 m/s when the contest was drawn to a close at 3:30pm. Three rounds were completed, so all together with two rounds completed yesterday we got 5 rounds to make it an official record.
Tried to catch up but narrowly miss out by 60pts to make the individual podium.
Final Top 5 Ranking is
1 st: Stanley Chan, Hong Kong
2 nd Joe Sung, Taiwan
3 th Haeryoung Hwang, Korea
4 th Pang Yong Wee, Singapore
5.th Fu Hua Chang, Taiwan
Teamed up with the other 2 TW pilots n we got 1st for team placing.
Cheers!